NOTE: Testimonials are not solicited. They are not sorted by date, or in any particular order. Sometimes, if somebody says something particularly cool to me on the phone, I will ask them to put it in writing for me, and we post it when we get the chance.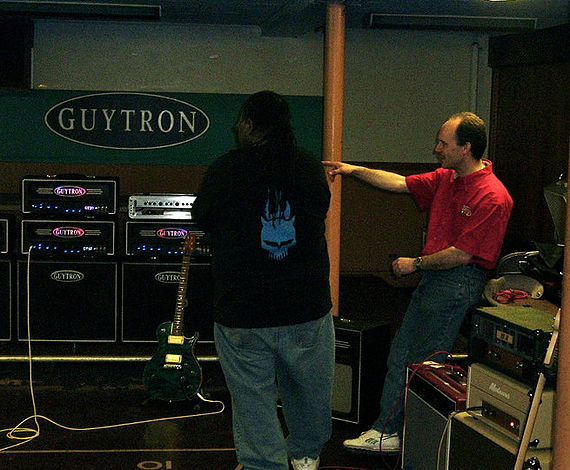 ​
Sent: Tuesday, January 25, 2000 9:30 PM
To All:
I'd like to share with you my first experience with the Guytron amp I've been playing through for the last week or so. Feel free to post it or share it with anyone you like. I had the Guytron GT-100 head delivered to SIR rehearsal studios in New York where I was to begin rehearsals with Steely Dan for the upcoming tour and two live concert video shoots, one for VH-1 and one for PBS.
As it has been my habit, I came prepared for the rehearsals with my trusty arsenal of effects pedals, particularly an MXR Dyna-comp, a Boss Blues Driver, a Tube Screamer, a delay and a reverb, etc., in short, all the pedals I'd often found could help me get closer to a sound I felt comfortable and expressive with. By the time I arrived, the amazing Skip Gildersleeve (SD guitar tech, wonder boy that he is), of course had my Telecaster and the pedals all fired up and ready to go, with the GT-100 on standby plugged into my Marshall 2x12. After about 5 or 6 minutes of playing the amp, every effect was out of the chain and back in the box to be sent back to my studio for storage.
The amp was doing everything I had been trying to get all the other amps and those feeble pedals to do, but doing it so much better, and doing so much more, I was sort of in shock. The stunning revelation that I had been getting by for years playing mediocre amps at best was obvious after about ten seconds of playing this amazing amp, and I was angry at myself for not having been more aggressive in the past in seeking out a truly great amp. I was sorry for all the lost years of working so hard to get what this amp was giving me so effortlessly.
Playing it reminded me of the all too few times I'd stumbled upon a fantastic old Marshall or Vox in a rehearsal studio somewhere, or in my earliest days of playing, when so many of us seemed to have great amps to play, but took them for granted, in a way, not knowing that we were playing through amps that would be rare finds someday.
My overwhelming feeling about this amp is one of relief! It just frees me up to play music, and I am thrilled. And since there is more than a little bit of music to dig into in my current job (!) it scares me to imagine what I would have sounded like without the Guytron. Thanks to Guy, Frank, Greg (at Makin' Music), and everyone else who had anything to do with creating this great instrument.
Yours,
Jon Herington

Wednesday, Feb 11, 2009
Graydon,
Thanks for taking over Guytron and making it happen!  I just picked up my GT40 and I couldn't be happier!!  I do feel a little guilty because it only stayed in the store for a little over two hours.  Gregory (Music Gear Guys) didn't have much time to check it out.  He was right though, and he totally sold me on it.  I'm really glad I waited and held out for the GT40.
This thing has balls!  Great range of tones.  It's everything it's said to be, and then some.
Stephen (on his new GT40 head with 2-12LT cabinet)
​
​
​
Friday, Feb 13, 2009
Best amp I have ever played!  Thanks so much.
Anthony (on his new GT20 combo)
​
​
 
​
Sunday, Nov 16, 2008
...Got some happening tones. This amp is full of so many tones it is crazy..  Really have to learn this amp.  But it sounds great.
Rick (regarding his new GT100 F/V head)
 
​
​
​
​Sent: Friday, July 18, 2008
HOLD THE PHONE!!! I just plugged my Duncan "Custom-Custom" loaded Les Paul Standard into the GT100... This is the most amazing amplifier I've ever played! WOW!!! I'm nailing just about any tone I can think of...even some new ones!
My Les Paul Custom is loaded with a Duncan "JB" which is a darker sounding pickup.I'm now getting "mids" that are so sweet... A truly great amplifier exposes ever nuance of an instruments acoustical properties...that's the GT100's "main muscle"...and it flexes that muscle like a champ! This amplifier overflows with the kind of molten harmonic overtones that makes music history. If Jimi could have only played a Guyton GT100...
This is the most unique amplifier I've ever owned! I think what I'm going to do, is to wait until Christmas,and then order a GT100 F/V.I want to keep this amplifier as a totally stock Rev.B Guytron GT100 amplifier. To mod it,would be desecrating it. These amps (IMHO) are equal to (if not more pleasing than) a Dumble! Maybe if this amp ever needs for professional attention, we could do some tweaks then... but I can't imagine it needing any now. Thank you for your professionalism, courteous attention, and knowledge. Please extent these sentiments to Guy Hendrick also.
Sincerely,
John C. Cameron
​
​
​
​
​Sent: Thursday, July 10, 2003, at 12:09 AM
I just checked out your web site. I haven't checked it in a long time. I have been simply using my GT100 for years without any problems. My favorite recording set up is-- I run my guitar into the GT100 head and run a speaker wire to a sound proof room and use an old Electrovoice speaker. I mic the speaker with a 57 or KM184 and use a Manley Vox Box as the preamp which then goes to a compressor/limiter Pendulum Variable mu for just a tad of attenuation. I record directly to an Otari multitrack tape machine or RADAR hard disc recorder. The sound is just what I want. The only problem is that by dozen or so other amps (Fender, Mesa Boogie, Dr. Z, etc) are gathering dust and I have to force myself to play them. Not that the other amps don't sound good -- it is just that I am lazy and can usually effortlessly get the exact sound that I want from the GT100.
Jon Lieberman
Fairbanks, Alaska
​
​
​
 
​Sent: Wednesday, October 6, 1999, 12:54 PM
Subject: Guytron Amplifiers Get You Work!
I have been a professional for over twenty years, owned and played them all; Marshall, Fender, Boogie, Rivera, etc. I purchased a GT-100 head and one cabinet in November of 1998 and a second cabinet in 1999. My Guytron is the only amp I gig with and all my other amps are gathering dust. It is, quite simply, the best amp in the world. I recently played a club where the management was very particular about volume. I needed to get my tone at low volume and my GT-100 came through with flying colors. At the end of the night, the manager said he liked our material and that we weren't too loud. The following Monday, HE called ME and gave me 5 more dates.
Best Regards,
Norm Geib, Connecticut
​
​
​
Sent: Sunday, July 27, 2003, 12:39 AM
Subject: Guytron amp
I heard your GT-100 heads with GT-212 cabs at a recent (7/24/03) Steely Dan concert in California. You have outdone yourself if that is possible in engineering!!! My heartiest congratulations on great products for guitarists.
Thanks,
Mister Kim N.Perry
​
​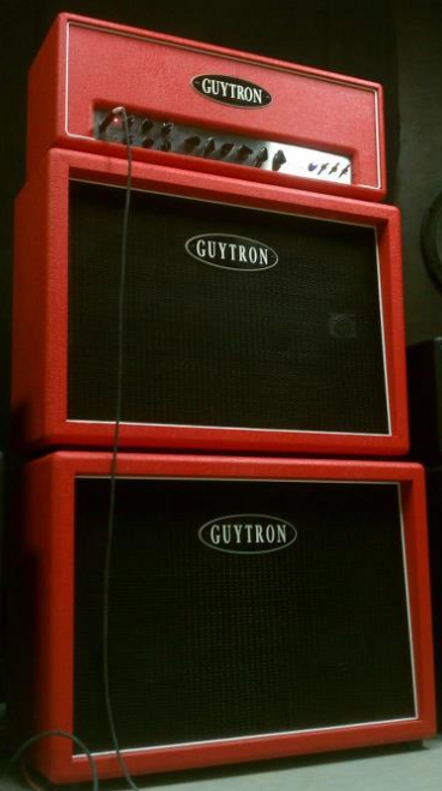 ​
 
Sent: Mon, Mar 13, 2000, 11:56 AM
Subject: Guytron amp
I finally got to play through a brand-new GT-100 Saturday as well. I now see what all the fuss is about. Man, I can't stop thinking about that amp! Beautiful, shimmery, bell-like tones on the clean. I was pleasantly surprised at the amount of gain on the lead channel. I think it has more than enough gain on hand, it's just a matter of whether the voicing would work for someone or not. For me, I'm not so sure, but I gotta' say if I had the cash, I'd be over there right now picking it up. I didn't get a chance to throttle the volume much, but I didn't have a problem with the way the amp responded compression-wise at all. I thought it would start sounding really squished from hearing Carl describe it. I've never had the chance to play through any of the old blackface Fenders you hear so much about, so I never had much of a reference for a great clean sound.
My personal experience comes from my JC-120 and my Mesa amps. I had no idea what I was missing! I had one of those experiences you can't get out of your head. I'm afraid I should have stayed away! You're a lucky guy. The store I was in also had a Bogner Ecstasy half stack right next to the Guytron. I've played through the Bog before and really like it, but if I had to rely on initial impressions, I like the Guy a bit better. The Bog is so tweakable , and I didn't mess with all the settings, but the Guy seemed to have a much cooler tone and vibe right off the bat.
​
​
​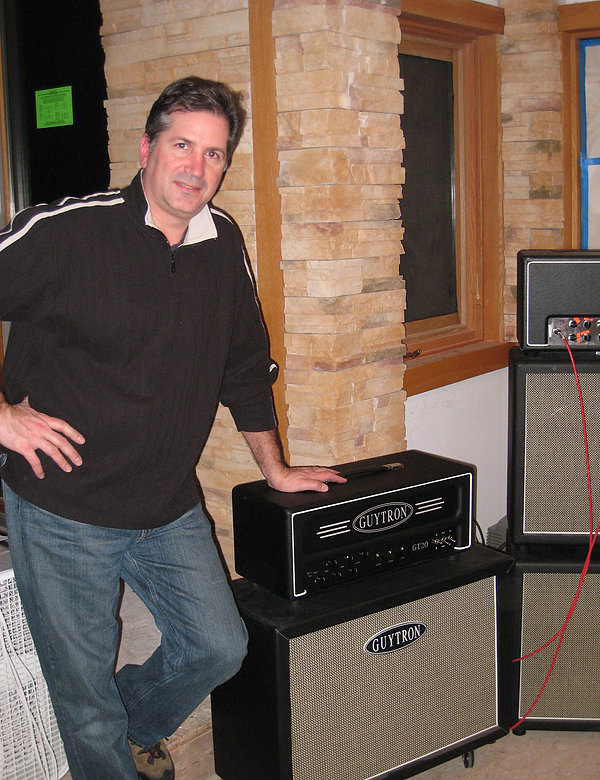 ​​
Sent: 7:52, 12/31/98
From: Paul Dennis
Subject: Guytron amp
Plain and simple. Its the BOMB!!!! It sounds better than just about any amp that I have ever owned. If anyone wants the balls sound do the this; run your amp through a dry cabinet and then run a line out to a stereo rack so that you have a wet and dry signal. I do this with a Bradshaw switching system, my GT100 and a TopHat King Royale and I have to say that this combination rules. It costs a hell of alot of money, but it rules. I play a Tyler classic strat and a Studio Elite through it and the single coils sing like nothing that have ever heard. Eat your heart Eric Johnson!
I've been playing for about 15 years and I love this amp. Like I said above, I have a TopHat King Royale that I use with this rig and it rules to. Maybe I should review it as well? I've owned Matchless, Soldano, Marshall, VHT and Rivera amps. While these are all great amps, the GT100 is just more pleasing to me. Go buy one!! NOW!!!!!!!!!!!
Sincerely,
Paul Dennis
​
​
 
​
Sent: 8:36, 11/29/98
From: Brian Reuschling
Subject: Guytron amp
I have been using the GT-100 setup for about 4 or 5 months for live performances, rehearsals and practice at home - pretty much everything! The versatility of this amp is unrivaled. I play rock, blues, country, alternative and the occasional Van Halen tune and I have no trouble finding what I need in this amp. The design of the amplifier allows the EL-84's to saturate at a low wattage and provide tube saturation at low volumes so you don't have to crank this amp into oblivion to get a great sound. The harmonic content of any note when using the higher gain settings is nothing short of incredible.
I typically run the amp with all of the knobs in the master EQ section all pointing to 12:00 although I occasionally need to roll the low end off to about 10:00 in live situations. I control the overall tone by tweaking the dedicated Tone control for each channel. The voicing of this amp is amazing at these settings but the tone controls don't offer extreme swings in control. What they do offer is the ability to fine tune a great tone to the player's individual taste or guitar. The channel dependent Tone controls are fairly broad in the "Q" sort of like the tone control on your guitar - they cover a lot of ground. I have tried to find some really ugly sounds by dialing up some extreme tone settings and while the tones I found at these extreme settings were not always "musical", I wouldn't call them totally unusable either! This amp does an incredible job with any style at any volume and the compression characteristics make this amp feel really organic. Clean, mild overdrive, Texas blues, crunch or high gain, it's in there. I don't want to slag any other manufacturers, but I haven't plugged into anything (bar none) that has topped. the tone and responsiveness of this amp.
I have exchanged e-mails with Guy Hedrick on several occassions and he has been very responsive. We have a small (but growing!) Guytron user's group in my area and there is a loose, informal communication between many of us. The oldest amp I am aware of in this group has been going strong for nearly 2 years without a single problem (on the original tubes, no less). I get to hear that amp regularly since it belongs to the other guitar player in my band and I can tell you first hand that it still sounds amazing.
Sincerely,
Brian Reuschling
​
​
​
​
Sent: 10:22, 11/23/98
From: Kirk
Subject: Guytron amp
When I tried the amp out first I used a Tele and Reverend Strat style and the amp sounded awsome with single coil pick ups as well. The amp delivers a wide pallet of tones from black faced sounds to all the valco, and english amps with Plexi authority. The high gain sounds are very smooth, which makes the modded marshall sound hard to aproximate, but the high gain sounds are much smoother which I prefer. This amp is so versitile it is a shame I only get to use 2 sounds live. I can't wait to record with it!
I met Guy Hedrick when I purchased the amp. I spent a long time with him playing and talking about the amp. He is totaly into this amp and I would say he is behind his design 100%. I am ebarassed to say I don't know how long the warrant is, but I don't think that will be a problem. Guy Hedrick is a geniuos.
I have been playing for 19 years and this is by far the most impressive amp I have Ever owned. I just purchased a JCM800 2203, witch I love for that signature Marshall sound, but the GT100 can almost duplicate it an reasonable volumes. This only the second high end amp I have ever owned, but I got rid of a Marshall 6100 to get this, and have tried everything(Matchless, Naylor, Bogner, Riverra, Boogie, Fender custom shop amps ect) and it is by far the coolest amp I have played. If you want a well made amp that will get you Vox, Fender, Marshall, Valco, Ampeg, ect. this is the amp for you.
Sincerely,
Kirk
​
​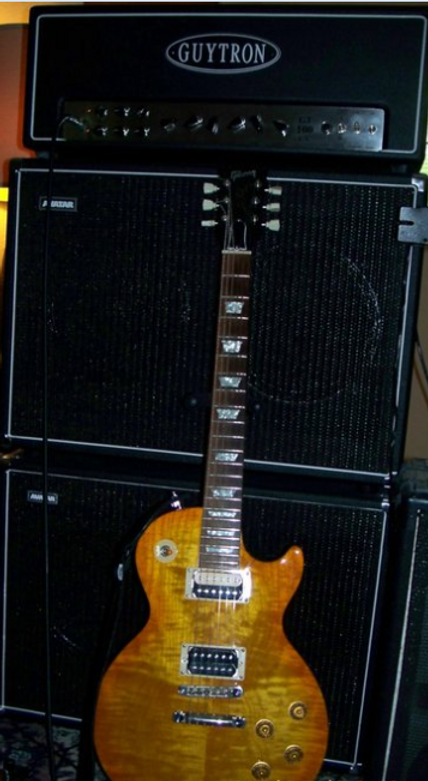 ​
​
Date: Tue, 03 Apr 2001 19:49:12 -0700
To: guytron
Guy, just wanted to introduce myself, George Shmagranoff. I bought Gilbert Castles Guytron GT100 about 8 months ago. I have the 2x12 cab as well and converted it to open back. I do not play professionally, but I have been playing for ~ 20 years, have a bunch of vintage gear and have basically been through it all - new and used. My most direct guitar influences are Hendrix, Beck, Mclaughlin & Uli Roth.
Your amp is just brilliant. It sounds famous, I don't fight the amp like I do my 1000W Marshall, and it lets me be more myself when I play because I am more confidant in the sound which in turns inspires me which in turn gives me more confidence - I'll take that any day.
I use a hotcake into the clean channel so I have 2 lead sounds (the standard compressed and the more open hotcake > clean channel sound) and of course the clean channel. using a Strat with Warmoth scalloped neck, some custom stacked Duncan pickups and vintage style bar I am home!
Anyway I love the amp, it is a true heavyweight in the boutique field of amps.
Thank you for you ingenuity!
-George